"Jinxed At First" Previews" Seohyun, Na In-woo, and Ki-do-hoon have a meaningful meeting and continue their uncomfortable relationship.
Jinxed At First" Previews
Jinx's Lover' Episode 5 which will be broadcast on the 29th (Wednesday), the changing feelings of Min-Jun (Ki Do-Hoon) towards Seul-Bi (Seohyun) and Soo-Gwang (Na In-Woo) are drawn. Earlier, Su-gwang went to the Geumhwa Hotel to find Seul-bi's house and accidentally ran into Min-jun. Min-jun couldn't hide his surprise when Soo-Hwang, who he thought was dead, appeared and realized that he was in danger and helped him escape. However, when Soo-gang visited Min-jun two years ago, he remembered that he had rejected him and treated him coldly. Min-jun also went to her Seulbi and said, "Knowing you are here puts Soo-gwang in danger," warning her to return to the Geumhwa Hotel, and Seulbi was worried that Soo-gang would be endangered because of him.In the published photo, Seulbi and Minjun are facing each other with serious expressions on their faces. Seulbi's eyes, unwittingly, uneasy about Min-Joon, make her feel her shaking emotions intact. Also, I wonder what will happen between the two people who exude an unusual air current.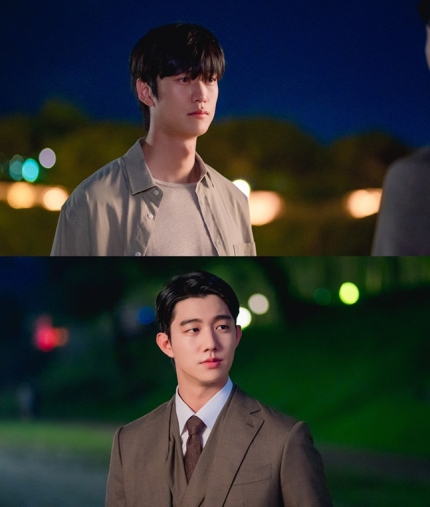 On the other hand, the meeting between Soo-gwang and Min-jun also attracts attention. The cold gaze of Soo-gwang looking at Min-jun is felt, and the heavy atmosphere is expected to further heighten the tension of the play. It is attracting attention as to why Min-jun came to Su-gwang and how their relationship will develop in the future.As such, the complicated relationship between Seulbi, Sugwang, and Minjun will be dealt with in earnest, and I am looking forward to seeing how the uncomfortable truths in their relationship will be portrayed. In addition, attention is paid to the acting and breathing of the three people who will detail the changing emotions in a variety of ways. Seohyun, Na In-woo, and Ki Do-hoon's unusual meeting can be seen on the 5th episode of 'Jinx's Lover', which will be broadcast at 9:50 pm on the 29th (Wednesday)
Source & Photo: courtesy of Victory Contents & Naver