Lee Seun Gi And Lee Seung the law Cafe is receiving rave reviews from overseas after only 4 episodes.
KBS Monday-Tuesday drama 'The law Law', which was first aired at 9:50 pm on the 5th, maintained the No. Above all, with the first release of the first episode, it was ranked No. 1 on Asia's largest platform via, spreading word of mouth overseas and creating burning firepower. In just 4 episodes, we have categorized the overseas reactions that have been established as global popular dramas, capturing the hearts of people not only in Korea but also around the world.
Lee Seung Gi And Lee Se Young The Law Cafe' Overseas reaction 1: Ratings in the 8-9 range! Overseas community rave reviews!
The Law Cafe received a whopping 9.1 on IMDB, the largest movie and drama information site in the United States, followed by a rating of 9.3 on 'DRAMABEANS', a website featuring in-depth reviews and analysis of Korean dramas, and Asia's largest drama. It obtained a high score of 8.1 on the rating platform 'MYDRAMALIST', proving its global interest.
Viewers Comment
"Best of 2022 indeed (Best Drama of 2022. S****8*)", "I haven't come across a drama that caught my attention as quickly as Law Cafe did in quite a while. (I haven't seen a drama that catches the eye as quickly as 'Love the Law' in a long time. l***2***)", "both mains are terrific, script is nice and new, directing is good. (Both mains are excellent, the script is nice, new, and the directing is good. b********1**4) The positive reviews related to the work continue, raising expectations.
The Law Couple: Lee Seung-gi – Lee Se-young Admiration and praise for the chemistry!
Lee Seung-gi and Lee Se-young, who transformed into Kim Jung-ho and Kim Yu-ri in 'Love According to the Law' and earned the nickname 'Law Couple' for their perfect chemistry, are causing international fandom beyond Korea. Lee Seung-gi, Kim Jung-ho, who is kind as if hard-headed, and Lee Se-Yeongwho are daring but lovely, Kim Yu-ri, are enhancing the vitality of the play with perfect breathing. Cheering for the two people who shoot a jab of excitement amid a fight is being transmitted across borders.
Viewers Comment
Overseas viewers chanted "that's so sweet! (So ​​sweet! B*** F***)", " It's lovely, gets more interesting with every episode. (Lovely, it gets more interesting every time. N*****)", "Lee Seung Gi and Lee Se Young are both fantastic actors, and they have amazing chemistry! (Lee Seung-gi and Lee Se-young are both fantastic learners, and their chemistry is amazing. I***2***) and so on.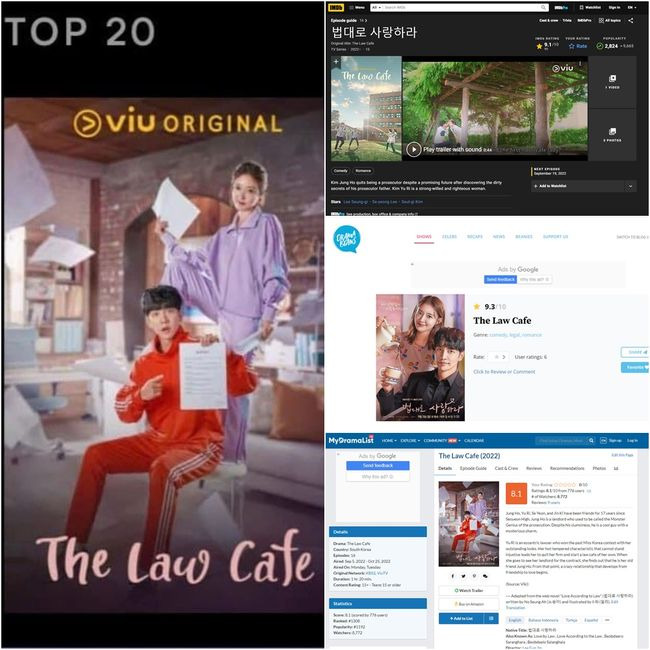 The Law Cafe: Empathy for life-close episodes
In addition, it was revealed that the episodes closely related to life in 'The Law Cafe' were also interesting to people around the world. Global admiration for the way the episodes related to the law, which seemed rather difficult, went beyond a simple romance and exploded.
Viewers Comment
"this is not just romance but also you can learn a lot of life lessons and the importance of having a family. (This drama is not only a romance, but also a drama where you can learn life lessons and the importance of having a family. C**)", "I'm that impressed. This is more than an excellent show that draws into a well written plot. (I was really touched. It's more than a great show that draws in a well-written storyline. 5*******5*)", "Funny, quirky with lots of laugh out loud moments" f************m*_5**) expressed empathy and formed a consensus.
Meanwhile, The production team said, "It is surprising that the response to 'The Law Cafe' is explosive not only in Korea but also overseas. We ask for your continued love and interest
Source: Daum