The popularity of Jungkook (BTS) is undisputed when the male idol is always on the list of all charts around the world.
Tumblr social network recently announced the final rankings for 2022. In, Jungkook – a member of the cult group BTS – once again leads in the category of Kpop stars.
Specifically, Jungkook was announced by Tumblr as the most popular Kpop star on this social networking platform. This is also the 5th year in a row that the male idol successfully defends his title, since 2018.
READ ALSO
This year, Jungkook attracted attention when collaborating with Charlie Puth on the song " Left And Right". The song has brought many records for both male singers. This is also the first solo project of the "youngest brother" of BTS since the group announced that it will temporarily stop working.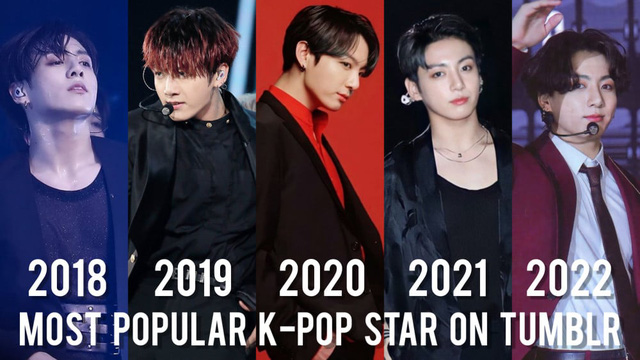 Right after that, Jungkook also made a miracle when he was invited to sing the FIFA World Cup 2022 theme song. The song called Dreamers brought back a series of amazing miracles. Specifically, in just one week, Dreamers had more than 32 million (unfiltered) listeners on Spotify's music platform. This number helps Dreamers become the song of a K-pop solo artist with the biggest debut week in Spotify history, surpassing Lisa's LALISA from BLACKPINK.
Jungkook also became the first and only K-Pop solo artist in history to have two songs surpass 30 million streams in the first week of release. The "youngest brother" of BTS did this with Dreamers and collaboration with Charlie Puth Left And Right.
In fact, even if Jungkook does not have these solo activities, the male idol is always noticed by the global audience thanks to his handsome appearance and talent. This is also the reason why Jungkook has more and more loyal fans and helps him keep the title of "king" of social networks for many years in a row.
SOURCE: K14