Ahn Bo-Hyun and Jo Bo-ah on tvN Monday-Tuesday drama 'Military prosecutor Doberman' stimulate interest by capturing an unusually sweet airflow between Do Bae-man (Ahn Bo-Hyun) and Cha Woo-in (Jo Bo-ah).
The two of them growled when they met each other, but when they learned that their parent's death and the target of revenge were the same, and started working together, the relationship between those who know the pain and hurt the most quickly grew closer. In the last broadcast, Do Bae-man and Yong Mun-gu (Kim Young-min) held hands and stood in court for money, not justice, and regretted his shameful past. Do Bae-man, who was practicing magic without going to work at the law office, was comforted by Cha Woo-in, who came to see him, and a subtle atmosphere was felt in the process. In particular, the changing emotions of the two people who are attracted to each other can be glimpsed in the scene where only the drunken Do bae-man grabbed Cha Woo-in's hand, who was about to leave.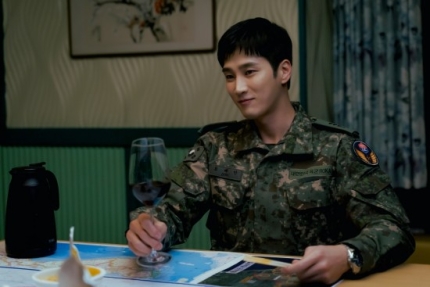 READ ALSO: Ahn Hyo-seop is impressed with the end of the Business Proposal: "I was happy to work with Kim Se-jeong"
Therefore, the steel released this time catches the eye by stimulating the curiosity of whether the romance between the two will begin in earnest in the 11th episode, which will be aired on the 11th. Among them, the wine glass placed between Dobaeman and Cho wo-in, who are spending time alone at a coffee shop hideout, seems enough to create a romantic atmosphere for them.
The two seem to be having a special meal time with wine and a bowl of noodles. In the meantime, as he has devised detailed plans for revenge and even fought hot action battles with villains, it is a sweet moment like never before, so it touches me more dramatically.
Above all, the way they look at each other is also unusual. This is because the gently raised corners of their mouth show how Do Bae-man and Cha Woo-in feel.
Here, Do Bae-man's expression, looking at Cha Woo-in happily eating a bowl of noodles, further doubles the charm of his reversal that combines tenderness. Cha Woo-in, who always showed only a strong side, smiles shyly in front of him and radiates cute charm infinitely, making even the viewers smile.
Expectations are high as to whether Do Bae-man and Cha Woo-in will be able to win their love as they unfold their revenge and punishment on the villains.
Meanwhile, the 11th episode of 'Military Prosecutor Doberman' will be broadcast at 10:30 pm on the 11th.
Photo = tvN