Alchemy of souls: Light and Shadow' Rating is on the verge of breaking through double-digit ratings in just 4 episodes of part 2 thanks to the magicians' firepower.
tvN's Saturday and Sunday drama Alchemy of souls: Light and Shadow recorded an average of 9.4% in the metropolitan area based on Nielsen Korea and a maximum of 10.3% nationwide. Recording 8.5% and a maximum of 9.4%, it is continuing its upward trend with its own highest rating renewal every week. In addition, in the Global TOP 10 provided by Netflix, from December 12th to 18th, it ranked 6th in the TV (Non-English) category, drawing a global popularity curve two weeks after its release. In this regard, we looked at the catalyst for the rise in Alchemy of souls: Light and Shadow viewership ratings of 'Glorious Marriage', which proves the high interest of viewers.
 Lee Jae-wook and Go Yoon-Jung, a solid one-and-only romance narrative, Alchemy of souls: Light and Shadow Rating
The one-and-only romance unfolding between Jang-wook (played by Lee Jae-Wook) and Jin Bu-Yeon (played by Go Yoon-Jung) is cited as the background for the rising viewership ratings of the drama. In particular, this is supported by a solid narrative. The relationship between master and servant, priest, and lover in part 1 was transformed into another relationship created by Jang-wook, who returned alive from the end of death, and Jin Bu-Yeon, who has the soul of Nak-su, in part 2. As a result, Jang-wook and Jin Bu-Yeon became a heartfelt relationship that they couldn't recognize Jung-in, whom they loved and missed so much, even in front of their eyes, but as if fateful love for the two was only 'each other', the memories of the love they had together in the past connect them and immerse viewers. is causing In particular, in the last 4 episodes, Jang-wook and Jin Bu-Yeon spend their first night with a hot kiss and burst into melodrama properly, raising questions about when the two will recognize each other.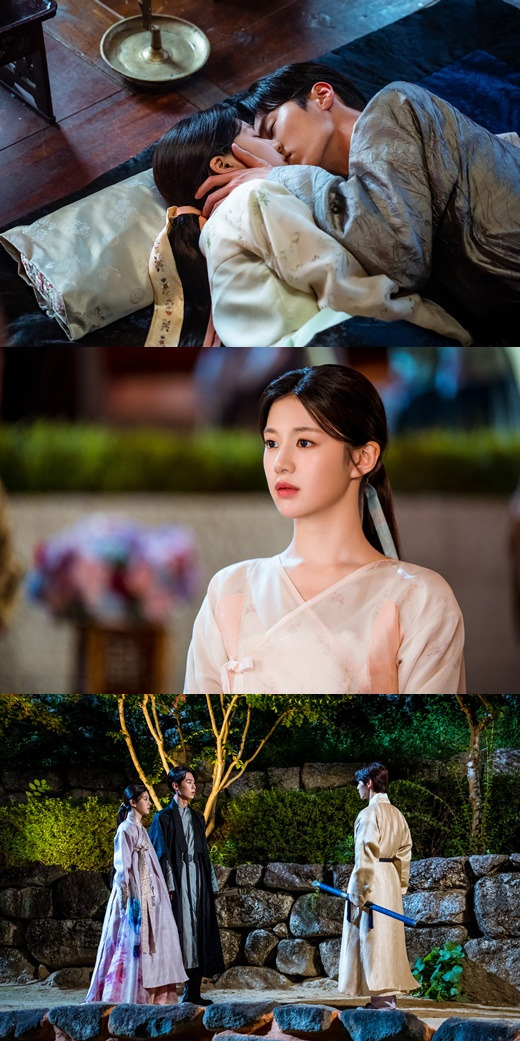 Go Yoon-Jung, melodrama + comical lovely charm
Go Yoon-Jung is showing off her extraordinary presence with her performance in both melodrama and comedy. In her play, the mysterious goddess Jin Bu-Yeon with the face of falling water, the late Yoon-Jung exudes beautiful visual and colourful charms that cannot help but fall into disassembly. She showed boldness in proposing to Jang-wook, whom she met once to escape Agent Jin, saying, "Will you marry me?" She sniped the hearts of viewers with her loveliness, saying, "She is Seo Bang-nim." She also expresses unstoppable affection by kissing Jang-wook first, as well as when enduring the tightening pain of Choo Seop-sa, saying, "The pain that doesn't kill me will eventually set me free." Raised. In this way, Go Yoon-Jeong maximizes her charm by adding her loveliness to the character of Jin Bu-Yeon, who goes back and forth between her cheerfulness and charisma, and expectations are raised for her future performance.
Go Yoon-Jung + Hwang Min-Hyun & Shin Seung-ho, building a special relationship
The special relationship that Jin Bu-Yeon builds up with Seo-yul (played by Hwang Min-Hyun) and Crown Prince Go-won (played by Shin Seung-ho) is also noteworthy. Seoyul felt a strange sense of déjà vu at her visuals and way of speaking, reminiscent of her first love, saying to Jin Bu-Yeon, who was familiar with her from the first meeting, saying, "I was wondering when we met." However, since Naksu is already dead, he does not recognize her because he thinks he will never see her again. However, the two have been entangled in repeated reunions and continue their first love relationship as a comrade Mojiri who turns a blind eye to each other's lacking behaviour. Jin Bu-Yeon and Crown Prince Gowon are also building an interesting relationship. Following the filthy mudeok in part 1, the turtle in part 2 became a medium for the relationship between the two, and they still know each other as Gonaegwan and Turtle Danggol. Previously, Crown Prince Gowon and Moo Deok's shitty chemistry sublimated romantic lines into comics, giving viewers a laugh. In particular, Crown Prince Gowon brings her fun, such as continuing a pleasant meeting with Jin Bu-Yeon, whom she meets on the go, and smiling, revealing her inner feelings only in front of her, as she did with Moo-deok in the past.
Meanwhile 'Alchemy Of Souls: Light and Shadow' is a fantasy romance in which the main characters, whose fates are twisted due to the soul-changing 'Alchemy of souls Spell', overcome and grow against the backdrop of a great country that does not exist in history or maps. It is broadcast every Saturday and Sunday at 9:10 pm.
Source: Daum