BTS enters the White House and met with US President Joe Biden at the White House for the first time as a Korean artist.
BTS had a conversation with President Biden for about 35 minutes in the Oval Office of the White House on May 31 at 3 pm (local time/ 4 am Korean time). During this meeting, President Biden and BTS talked about hate crimes against Asians, inclusion, and recent visits to Korea.
This visit of BTS was made possible by inviting BTS to the White House to wrap up the 'Asian American, Native Hawaiian, and Pacific Islander (AANHPI) Heritage Month'.
President Biden raised the topic of 'hate' by referring to the recent hate crimes against Asian descent. "Hate just hides," Biden explained. "When a good person talks about it, and how bad it is, it fades away."
President Biden said, "People listen to what you (BTS) have to say, and what you do is good for everyone," he said. "It's not because of your [artistic] talent, but because of the message, that's the point."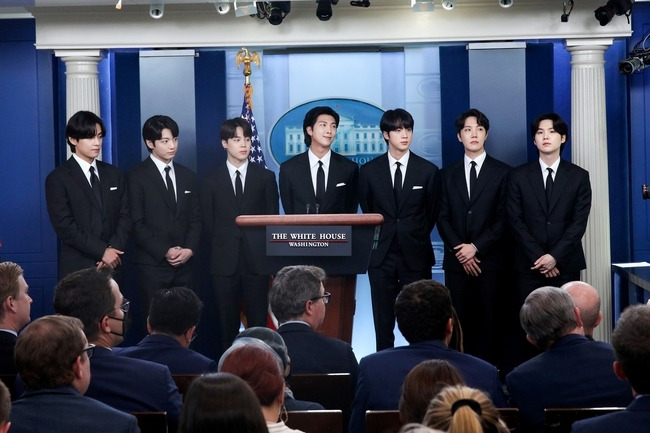 BTS expressed their gratitude for the 'COVID-19 HATE CRIMES ACT', which President Biden recently signed and took effect, saying, "We are making a small effort to find a solution to hate crimes against Asians. I hope I can even do it."
At the end of the conversation, President Biden presented BTS with a presidential commemorative coin.
Prior to this, the seven members visited the White House briefing room and shared their purpose and impressions of visiting the White House in front of a group of about 100 reporters. White House press secretary Carine Jean-Pierre introduced BTS, saying, "We are delighted to welcome a special guest from Korea. They are not only global icons nominated for a 'Grammy Award', but also young ambassadors of respect and positivity."
BTS greeted each other in English and Korean in turn. RM said, "It is a great honor to be invited to the White House today to discuss hate crimes against Asians, Asian inclusion, and diversity."
Read Also: 11 Kdrama in June 2022: Superseries of So Ji Sub, Seo Ye Ji, Song Joong Ki, and others.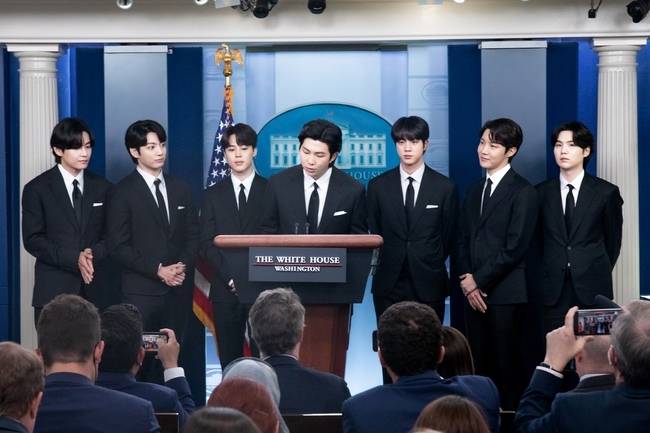 Jin said, "Today is the last day of 'AANHPI Heritage Month'. We came to the White House to share and celebrate with the AANHPI community." , Jimin said, "I was surprised and upset by the recent number of hate crimes against Asians, but I'm going to speak up today to help a little bit in eradicating this kind of thing."
Then, J-Hope said to fans around the world, "I think we were able to come here today because of our fans and ARMYs of various nationalities, languages, and cultures who love our music, and I'm grateful." He expressed his gratitude, and Jungkook explained, "It's still amazing that Korean music can reach many people around the world beyond different languages ​​and cultures. Music that connects all these things is a great medium."
Suga emphasized, "It's not wrong to be different from me. I think 'equality' starts with 'accepting differences' rather than 'right and wrong'." V said, "We all have our own history. Today, I hope that each and every one of us will take another step toward respecting and understanding each other as meaningful beings."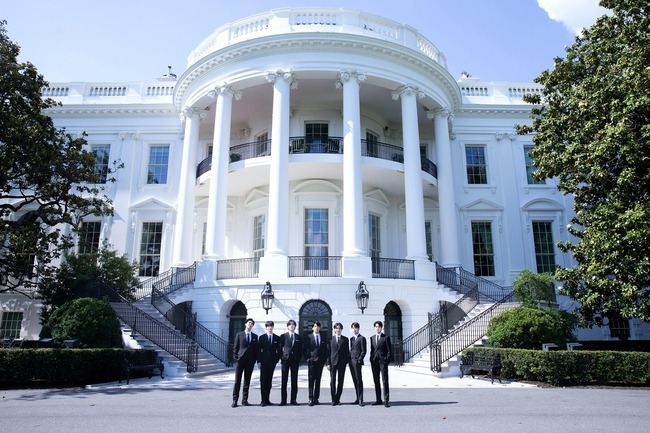 Finally, RM said, "Thanks to President Biden and the White House for allowing us to talk together about important issues and think about what we can do as artists."
With this White House prevention, BTS once again wrote the history of being the first Korean artist. Those invited to the White House on behalf of Korean artists proved their global influence through an interview with President Biden.
Source: Daum