Actor Choi Tae-Joon and Park shin-Hye Got married in early 2022, Tae-Joon boasted a pleasant joke, saying that he became a 'national rebel' after marrying his beautiful wife.
In the 4th episode of tvN's 'Sixth Sense 3', which will be aired on the 8th, with Choi Tae-Joon and Jo Se-ho as guests, 'The main menu only helps, the main guest evangelism special' unfolds. In the 'talk runaway locomotive' with no gaps in the audio, Choi Tae-Joon and Jo Se-ho's activities begin. The two are responsible for the amount of laughter that is strong enough to hear from Yoo Jae-suk, "Are you aiming for a fixation?"
Choi Tae-Joon, who has a solid acting ability regardless of genre, and recently married Park Shin-hye, boasts from the start, "I have become a national traitor," and boasts a burst of humor. Then, he claims to be the only one who thinks it is his own reasoning and brings laughter with the unprecedented 'professional activity greedy' who asks "Please acknowledge his activity".
Jo Se-ho, who made Mi-Joo disappointed (?), who was waiting for the romantic protagonist, boasts fantastic chemistry with the members of 'Six Sen'. Starting with the revelation that Yoo Jae-suk, who found out about Jo Se-ho's appearance the day before the filming, had been pressured (?) not to attend the recording, he and Mi-Joo formed a quarrelsome love line saying they were not interested in each other, adding to the fun.
READ ALSO: 2PM Junho fans donate 7 million won to help areas affected by forest fires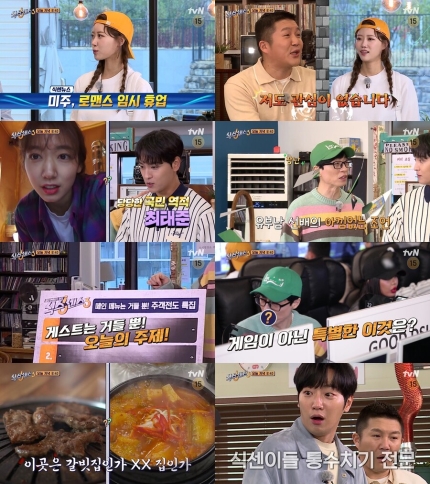 On this day's broadcast, from the PC room with a reversal charm that offers Korea's only unpredictable 'this', to a hot place restaurant with a unique charm that falls in love with the food once and the staff twice, to a meat restaurant with a special menu that is loved as much as ribs. The journey of truth begins.
In particular, the full story of the super-special and longest-running project that shocked everyone and the identity of the secret helper will be revealed. Even Choi Tae-Joon, who had a good laugh while showing his sincerity in reasoning throughout the broadcast, reflected (?) in the shocking ending, saying, "I will not go out." 'Sixth Sense 3', which will unfold an unimaginable reversal of the identity of the spy that no one expected, will be broadcast at 8:40 pm on the 8th.