Ahn Hyo-seop and Nam Joo-hyuk, Their drama is over, but the popularity of their work is still hot. Interest in Korean romance novels extends beyond Korea to the rest of the world.
According to Flix Patrol, an OTT ranking site, three Korean dramas were ranked in the world's top 10 Netflix TV programs this week. These are SBS's 'Business proposal, tvN's 'Twenty-five Twenty One', and JTBC's 'Meteorological Agency People'. The three works were ranked 4th, 6th, and 10th respectively.
Above all, the three dramas are currently finished works, and they attract more attention by proving the heat that does not cool even after the series are finished. Even at the time of airing, 'Business Proposal and 'Twenty five Twenty One' recorded the highest ratings of over 10%, leading to a hot box-office hit. Along with the work, the popularity of male protagonists such as Ahn Hyo-seop, Nam Joo-hyuk, and Song Kang also rose vertically.
"Business Proposal" (2022)
poster for 'Business proposal'/ Photo courtesy of SBS
'Business Proposal is a thrilling 'prevention of resignation' office romance between a face-to-face genius CEO and an employee who cheated on her identity. It is based on the webtoon and web novel of the same name by Kakao Page.
Kim Se-jeong has been nicknamed 'Korea's Emma Stone' for her clever comic acting from her first episode. Ahn Hyo-seop, who plays Kang Tae-moo, the perfect CEO who has all of his outstanding looks, natural wealth, and outstanding business skills, has earned a reputation as 'rediscovery of Ahn Hyo-seop' by showing off his romantic and unexpected comedic appearance.
Here, the sub-romance of Kim Min-gyu and Seol In-ah also revealed a presence that was no less than the main. The so-called 'Kissing Glasses' is gaining popularity on social media and is being talked about as a famous scene in the drama.
'Twenty-five Twenty One' (2022)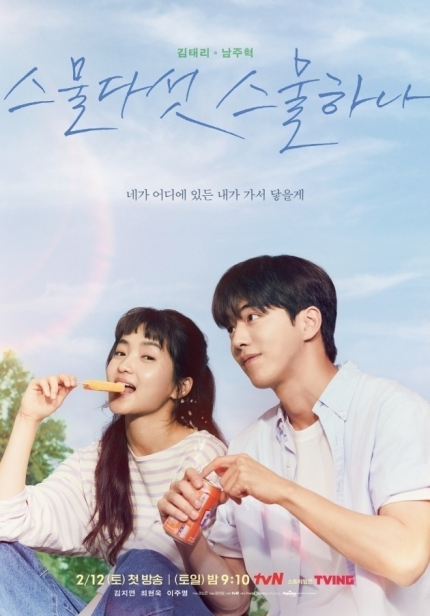 Main poster of 'Twenty-five Twenty One'./Photo Credit=tvN
'Twenty-five Twenty One' is a refreshing romance that depicts the wandering and growth of young people who have been deprived of their dreams in 1998. The story of five youths: Kim Tae-ri, Nam Joo-hyuk, Bona (Kim Ji-yeon), Lee Joo-myeong, and Choi Hyeon-wook gained great popularity by providing healing.
Nam Joo-hyuk, who had not seen much light in his works, succeeded in sniping women's hearts by showing melodic eyes in this work. Kim Tae-ri also three-dimensionally portrayed Na Hee-do's character, from her lovely appearance to the reassurance of giving warm words of consolation to Nam Joo-hyuk, and her strength as a fencer.
Although likes and dislikes were divided due to the sad ending in which love did not come true in the last episode, the actors' acting skills and chemistry were endlessly praised.
'Meteorological Agency People' (2022)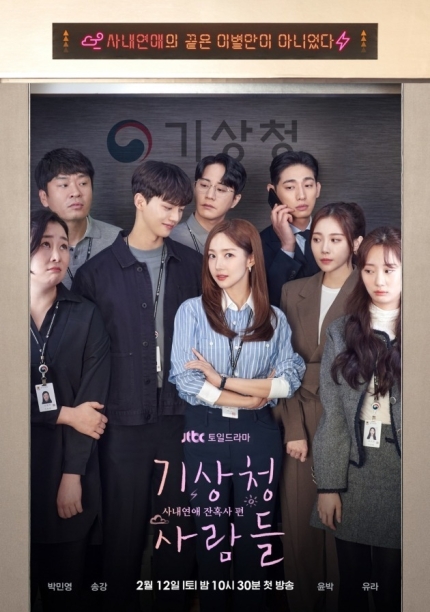 'Meteorological Agency People' elevator poster./Photo Credit=JTBC
'Meteorological Agency People' is a work romance drama depicting the work and love of the Meteorological Agency people, hotter than tropical nights and more unpredictable than local heavy rains. In Korea's first work with the Korea Meteorological Administration as the background, Park Min-young as Jin Ha-kyung, a principled general forecaster, and Song Kang as Lee Si-woo, who is in charge of positive news in every case, showed off the 'heart-pounding' chemistry. In particular, in the early part of the broadcast, the wind of Yoon Park (played by Han Ki-joon) who was about to get married, the breakup of her marriage with Park Min-young, and Song Kang and Park Min-young's one-night quick and unconventional developments received a great response.
As the episodes were repeated, the story was frustrating, but it raised the mood of the JTBC drama, which had been stagnant at the time of the broadcast, and promoted it among fierce rivals. Through this drama, Park Min-young went beyond the melodrama queen and established herself as a 'trustworthy baby' (a trusted actor), and Yoon Park renewed her life's character as Ji Ji-nam.