Ji Chang Wook In The Sound Of Magic, Netflix has released the main poster and teaser trailer for the original series.
On the 11th, Netflix released the main poster and teaser for the fantasy music drama 'The Sound Of Magic', which tells the story of a mysterious magician Ri Eul suddenly appearing one day in front of a girl who has lost her dream, Yoon Ai, and a boy who is forced to dream.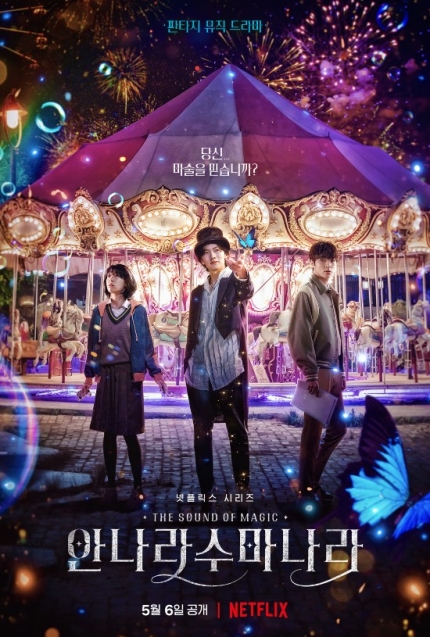 READ ALSO: The 58th Baeksang Arts Awards: The lineup of nominees for the final battle.
The released main poster catches the eyes of the three main characters in a mysterious atmosphere. An amusement park with no one in the dark night, a merry-go-round surrounded by fantastic lights, fireworks, flying butterflies, and soap bubbles create a dreamy atmosphere, inviting viewers to a dreamy world. Ri-eul (Ji Chang-wook), is a mysterious magician who appears in difficult moments and memorizes a spell saying, "Do you… believe in magic?" It raises curiosity about the magical story that will unfold in front of you.
The trailer makes our hearts flutter from the start with the rhythmic music and the mysterious appearance of the magician Ri-Eul. The students float in the air as Ri Eul casts a spell on the old stage, and the chairs move freely, opening up a fantasy world. Ri-Eul appears in front of high school student Yoon-ai, who is faced with a difficult reality, and says, "Do you know what to do when your heart is broken? All she has to do is memorize a spell," she said, presenting a magical moment. As the darkness of the amusement park and the streets were dyed with light, Yoon Ai, who had a bright face at the same time, expressed her desire to be comforted, saying, "Can I believe that a real magician was sent because I lived so hard and arduous?"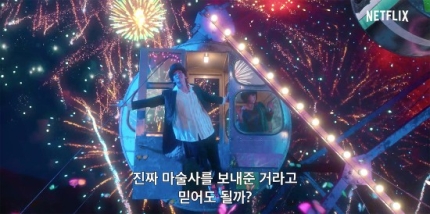 The first Nile in the school follows her classmate Yoon Ai to an amusement park and encounters a new world and emotions through Lee Eul and his magic. Yoon Ai, a girl who lost her dream because of adults, and the Nile, a boy forced to dream by adults, meet Ri Eul, an adult who wants to remain a child forever, and what kind of change will they experience? Their growth and change give both children and adults something to think about becoming a true adults and what their dreams are. 'The Sound Of Magic', based on a webtoon of the same name that left a deep impression on many readers, is reborn as a fantasy music drama with songs and choreography that amplified emotions, mise-en-scène that catches the eyes, and colorful magic. It will provide magical comfort and emotion to the viewers.
The fantasy music drama 'The Sound Of Magic', which raises expectations by releasing the main poster and trailer, will be released only on Netflix on May 6th.