The Still of Kim So-Yeon and Eom Ki-Joon, Goosebumps Smile, on their faces which was released by SBS' against the upcoming Episode of "Penthouse 3" Kim So-Yeon and Eom Ki-Joon took part in a press conference marking the inauguration of the Cheonga Art Center's "First Center Director," with their creepy bare faces hidden, was unveiled.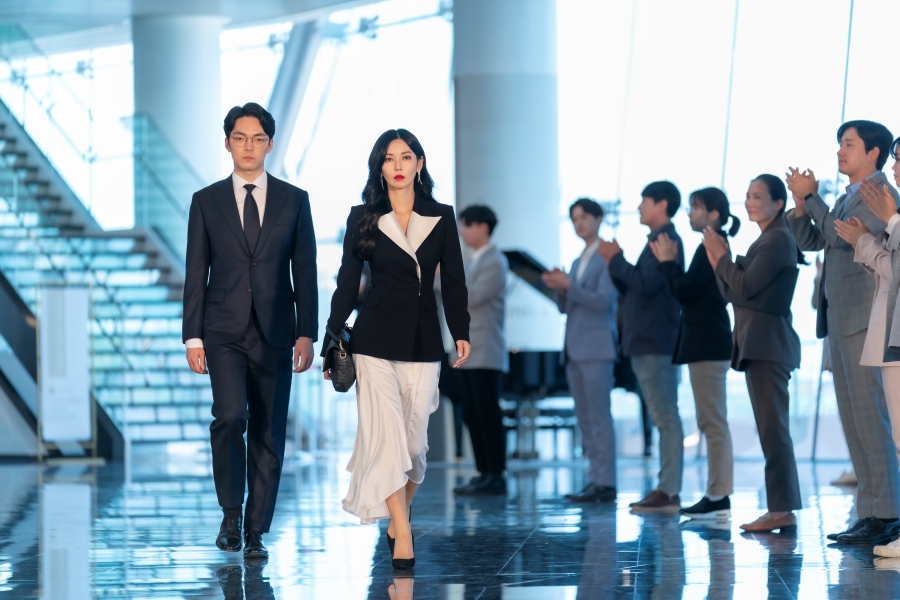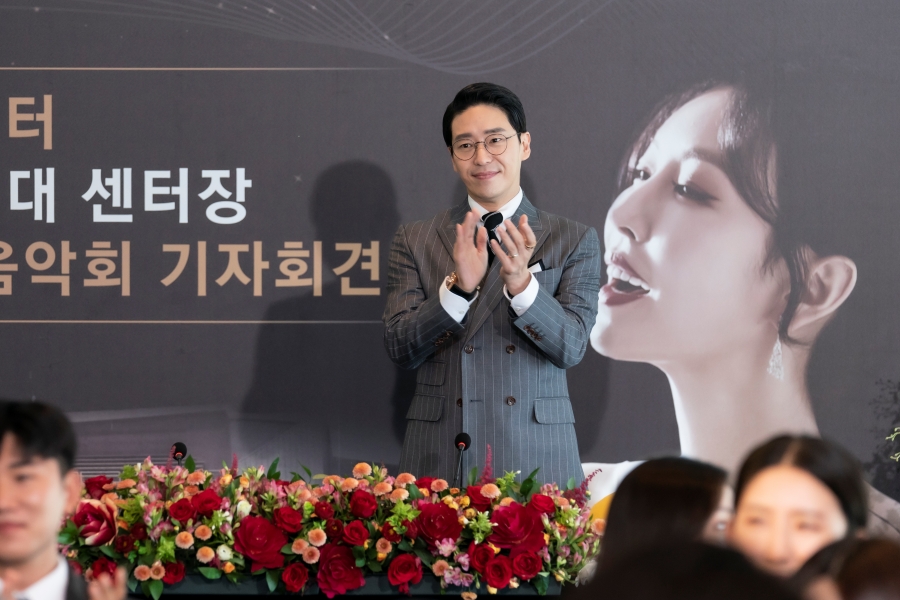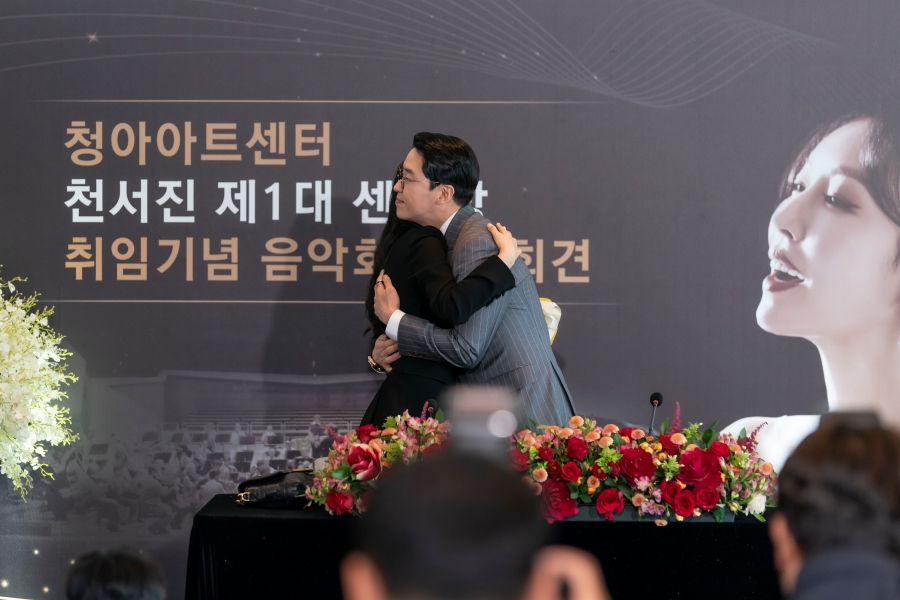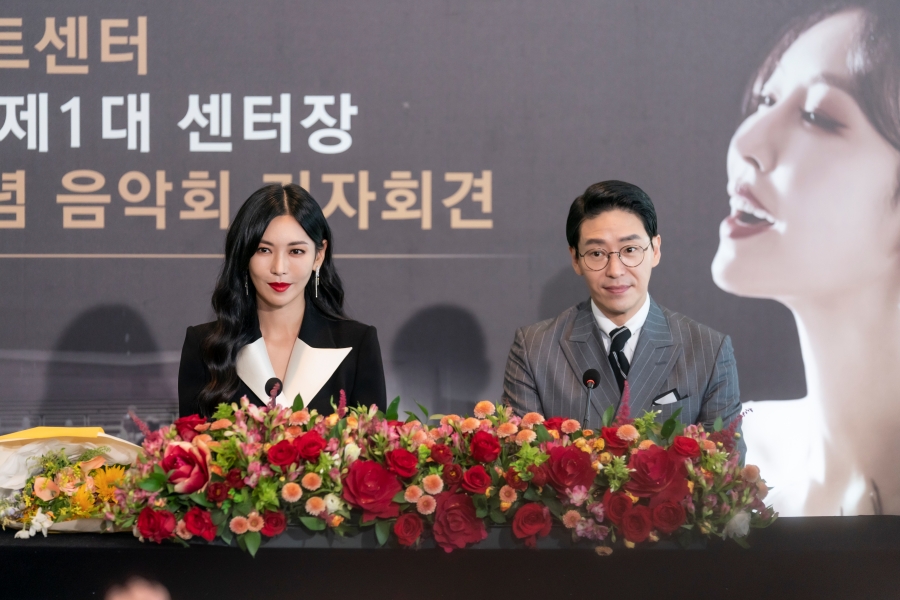 PREVIEW
SBS' Friday drama "Penthouse 3" dominated Friday night with an unpredictable story and twist with a suspense revenge play at No. 1 house and No. 1 education. "Penthouse 3" is still in power, topping the weekly mini-series with overwhelming ratings for five consecutive weeks.
In the fifth episode, which aired on the 2nd (Friday), there was a shocking reversal in which Chun Seo-jin (Kim So-Yeon) was found to have killed Oh Yoon-hee (Yu Jin). While Oh Yoon-hee, who was driven to the end of a dead-end cliff by Joo Dan-tae (Um Ki-Joon), was blocking the car with her whole body to save Ha Eun-byul (Choi Ye-bin), Chun Seo-jin, who arrived at the cliff scene with the help of Shim Soo-ryeon (Lee Ji-ah), quickly turned her eyes and pushed the car down the cliff, leading Oh Yoon-hee to death. Furthermore, Cheon Seo-jin took the stake in the Cheonga Art Center held by Oh Yoon-hee and sang in joy and emotion as if to announce the resurrection of the evil girl Chun Seo-jin at the rehearsal for the performance to mark the completion of the Cheonga Art Center.
In this regard, the "Goosebumps Smile at the Press" scene, in which Kim So-Yeon and Um Ki-Joon showed pretentiousness in front of numerous reporters, is stealing attention. In the drama, Chun Seo-jin and Joo Dan-tae appeared at a press conference for the inaugural concert of Chun Seo-jin, who became the "first director of the Cheonga Art Center." Cheon Seo-jin enters the conference hall with a big hand, and Ju Dan-tae welcomes Cheon Seo-jin with a bright expression.
READ ALSO: Jung So-min joins the cast of "Resurrection" after Park Hye-eun step down
The two men, who showed a light hug as if they were aware of the camera, sat side by side and smiled confidently at the reporters while hiding their deep cruelty inside. Chun Seo-jin, who pocketed stakes in Cheonga Art Center due to Oh Yoon-hee's death, and Joo Dan-tae, who holds the key to the safe of Logan-ri (Park Eun-seok), are drawing keen attention to what kind of shock it will bring in the future.
On the other hand, Kim So-yeon and Eom Ki-joon, who are leading the viewers' rave reviews by maximizing the vividness of their characters with their intense presence and passionate performances, overwhelmed the scene with their luxurious performances that portrayed the villain who hid his bare face without any hesitation, adding his eyes and gestures to the solid breathing that had already been in place for a long time.
However, The production team said, "Kim So-yeon and Uhm Ki-joon are actors who give strong trust with their excellent character expressions that are unimaginable to Chun Seo-jin and Ju Dan-tae," adding, "Please pay attention to whether Cheon Seo-jin and Ju Dan-tae, who each have strong weapons after Oh Yoon-hee's death, will be able to fully fulfill their desire for success." Meanwhile, SBS' Friday drama "Penthouse 3" airs every Friday night at 10 p.m.