These Korean beauties on motorcycles, Have you ever tried to imagine Korean female stars with fragile and gentle appearances, what will they look like when posing on the side of a large displacement vehicle? Let's take a look at the cool looks of Korean beauties when showing their passion for speed.
Song Hye Kyo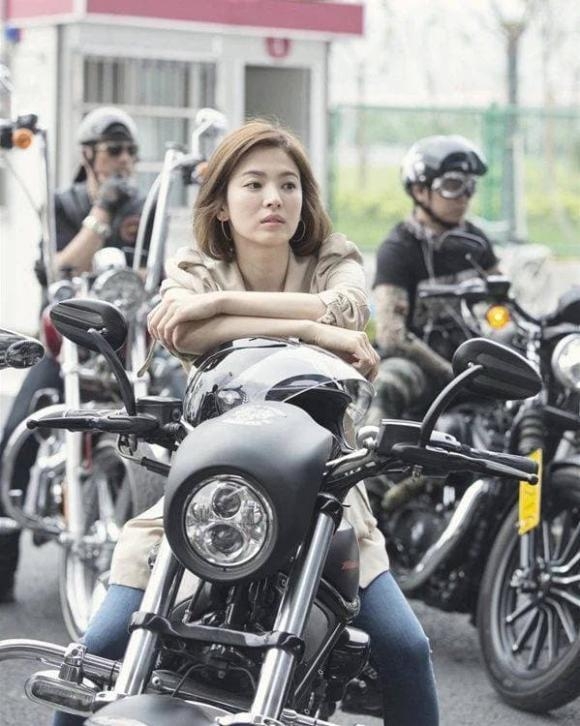 Always appearing with a gentle and fragile beauty, it is hard for me to imagine when Song Hye Kyo changes to the image of a "player" mixed with a bit of rebellion. 
In fact, in 2015, Song Hye Kyo tried to film with a large displacement motorcycle in the movie I Am the Queen. Her dynamic form makes me feel very excited.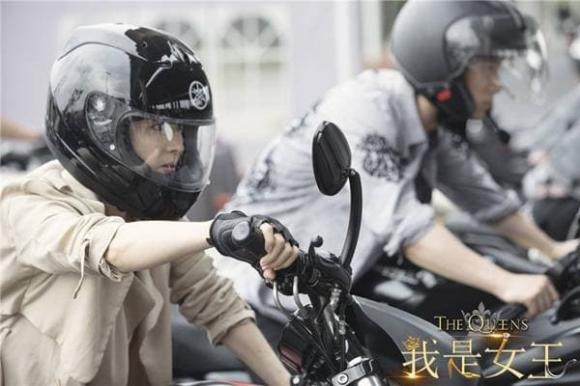 Wearing a light jacket, and blue jeans, Song Hye Kyo's image in this segment is somewhat simple. However, her outstanding beauty is what attracts my attention the most. 
No fussy makeup, but Song Hye Kyo still looks very beautiful and charismatic. She also sat in the car with a very sophisticated look, like a real racer.
See also:  Song Hye Kyo and Jennie's special mutual friend
Son Ye Jin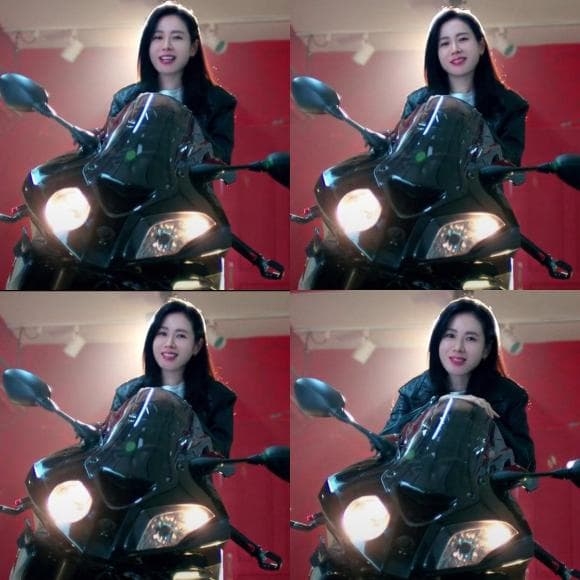 Recently, a brand posted a new promotional clip of Son Ye Jin. In the clip, the actress " Crash Landing on You " wears a super cool black leather jacket, and sits on a stylish motorcycle with a "brand" smile on her lips. 
When watching the clip, I really admired the ageless beauty of actor Hyun Bin's wife. Although she is 40 years old, she still looks very young, with no trace of age. Although Son Ye Jin rarely publishes pictures of her private life, every time she appears, Son Ye Jin makes everyone flutter with her radiant appearance.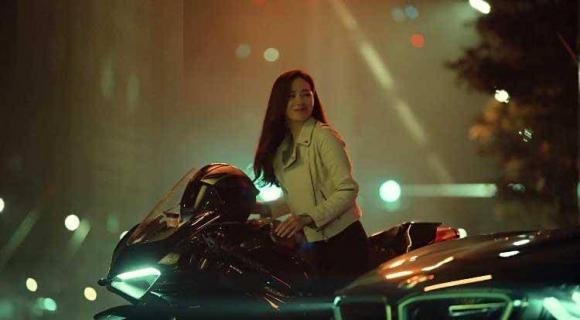 Previously, Son Ye Jin also posted a clip recording the behind-the-scenes of her advertising shoot. Although the clip is quite dark and can't be seen clearly, I can still see the admirable figure of the pregnant mother Son Ye Jin. Looking at the way she walks and sits on a large displacement motorcycle is enough to see how "cool" the actress is.
See more: Hyun Bin bought an expensive stroller for his first child
Ha Ji Won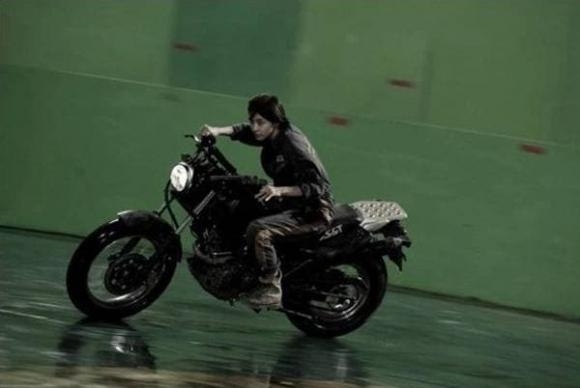 Ha Ji Won is known for her image as a "woman" so the fact that she tried out with a large displacement bike did not surprise me. In the blockbuster Sector 7, Ha Ji Won plays the role of a brave female warrior who has to show countless action scenes. There is a scene where the actress rides a motorbike on the street and looks extremely cool. Her short hair personality contributes to clearly showing her strength and determination.
I know, in order to transform into this character in the most perfect way, Ha Ji Won took the exam to get a motorbike driver's license. That makes me admire her sense of responsibility, wholeheartedly for her role. In addition to the motorcycle "riding" scene, Ha Ji Won also handled many difficult action scenes by herself without the need for a stuntman.
Lee Na Young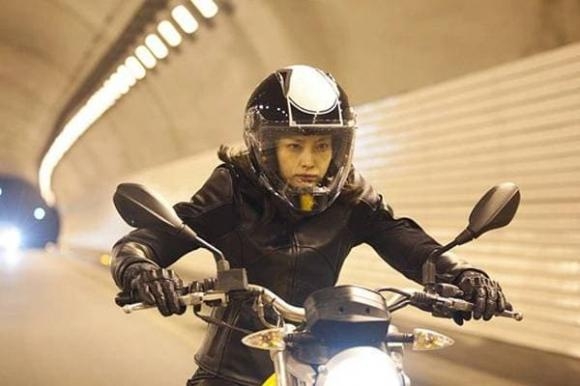 In the movie Howling, actress Lee Na Young plays a female detective, and her partner goes to investigate a mysterious case. Playing the role of a thorny policewoman, Lee Na Young has many remarkable action scenes, in which, the image of the actress driving a motorbike on the road makes me very impressed.
The actress wore a black leather jacket, gloves, and a helmet that looked "cool". Being used to the female image of the actress, this new image makes me a bit strange. However, the actress still plays the role quite skillfully, not at all awkward or not suitable for the role as I initially imagined.
Shin Se Kyung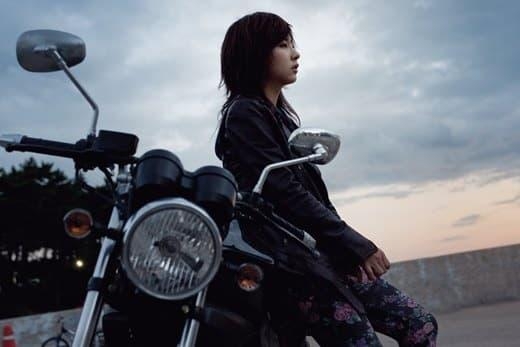 In the movie Blue Salt, Shin Se Kyung surprised me when she changed her image 180 degrees, from an innocent and pure girl to a cold, somewhat careless person.
The image of her next to the motorcycle in the movie makes me feel very excited because Shin Se Kyung looks very different but also very attractive. With dusty trimmed hair and distant eyes, Shin Se Kyung looks like she's acting in a music video. It must also be recognized that her undeniably beautiful body and famous long legs make her a lot more personal and attractive when taking pictures with large displacement vehicles.
Sung Yuri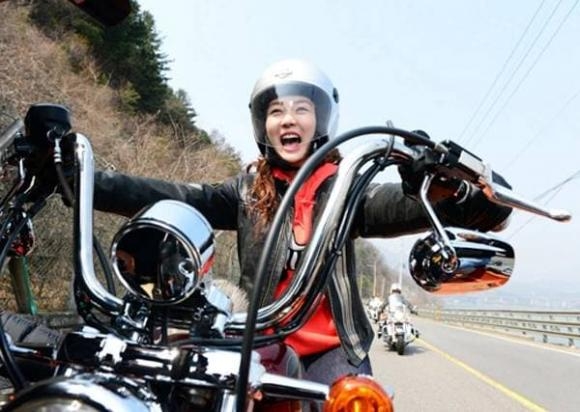 Other people riding motorcycles are dusty and cool, while "Snow Queen" Sung Yuri is as cheerful as a child being taken by his parents to a racing game. In the movie The Secret of Birth, Sung Yuri got the chance to ride a heavy motorcycle. However, she is not stressed but on the contrary, is extremely excited when riding a large displacement bike.
Moon Cha Won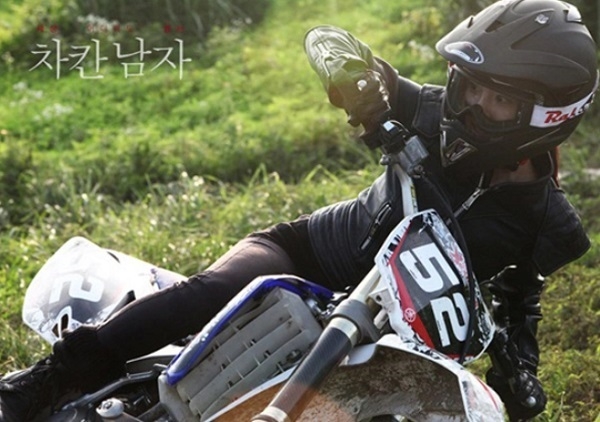 In the movie Nice Man, actress Moon Chae Won has the opportunity to experience the shape of a racer. She wears a personalized leather outfit with full accessories. Even though I can't see her face, I can still feel her strong aura emanating from behind her outfit. Moon Chae Won really suits this look.
>>See more: Kim Kang-hoon in Reborn Rich, his fantastic acting…
Han Ji Hye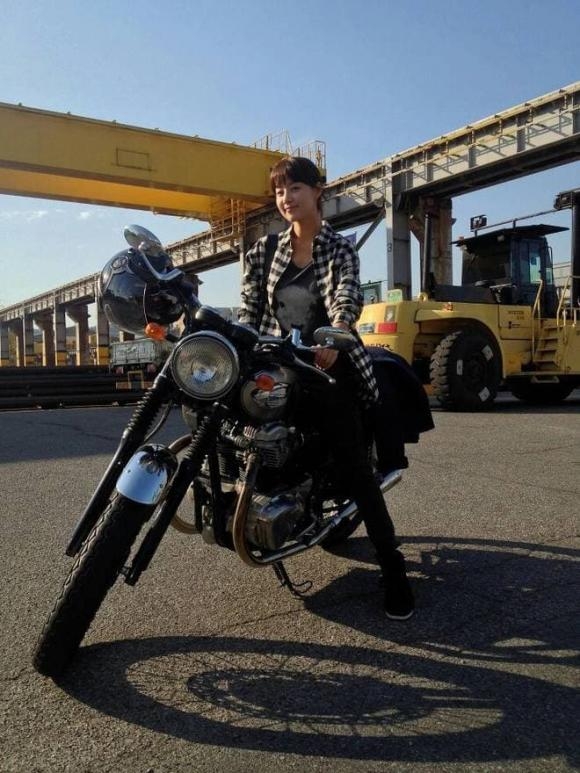 Han Ji Hye also used to ride a motorbike when filming the movie " May Queen " with a maritime theme. Transforming into a ship repair expert, Han Ji Hye has a dusty and casual style of dress. However, in the photo taken on the side of the large displacement vehicle, she still looks very prominent in her youthful and radiant beauty even without the accompanying makeup.
With beautiful beauty, I see that Korean beauties can be beautiful in any shape, whether it is cute, luxurious, or personality. Therefore, it is also advisable to change a little from time to time, to try out many shapes and make the audience not bored, it is a double task.
Source: Dienanh