Little Women Episode 4: slush fund 70 billion won has begun to be revealed to the world.
In the 4th episode of tvN's Saturday-Sunday drama 'Little Women, which aired on the 11th, the sisters who were trying to protect the life of Oh In-hye (Park Ji-hoo) and the sister Won-ryeong-ga were drawn. The relationship and situation reorganized along with the secrets of the characters revealed brought a reversal. The reaction to the unpredictable development was also hot. According to Nielsen Korea, an audience rating research company, the 4th episode had an average rating of 8.3% and a maximum of 9.8% for paid platform households in the metropolitan area, and an average of 7.3% and a maximum of 8.4% for households nationwide.
On this day, Oh In-kyung (Nam Ji-hyeon) visited the nurse in the CCTV video at the time of the death of Kim Dal-soo (Lee Il-seop). The nurse remembered the conversation she had between the two of them. Kim Dal-soo's answer to the question of 'war' and 'general', and Park Jae-sang (Um Ki-Joon)'s question, "How far can the person at the bottom go up?" added the Afterwards, Oh In-Kyung confirmed that the blue orchid she found was the same as the flower that Park Jae-sang gave to Kim Dal-soo.
Meanwhile, Oh In-hye followed Won Sang-ah (Um Ji-won)'s guidance and entered the secret room. It was full of rare blue orchids. There, Won Sang-ah asked Oh In-hye to draw her portrait. Oh In-hye, who she gladly accepted, fell shortly thereafter. Surprised by his sister's news, Oh In-Joo (Kim Go-eun) rushed to the hospital and was told the name of the disease was 'Luigi's disease. The word hereditary once again evoked memories of her younger brother 'Oh In-son, who died as a child. Oh In-Joo nailed Oh In-Kyung, who followed, that he would have surgery with 'the money. Oh In-Kyung, who was so tough, had no choice but to accept it.
But this time, Choi Do-il (Wi Ha-Joon) tried to dissuade Oh In-Joo. Choi Do-il tells Oh In-joo not to touch her money, saying that he is investigating Oh In-Joo at the Park Jae-sang camp. Of course, these words could not reach the present Oh In-Ju. However, as Choi Do-il said, Go Soo-im (Park Bo-Kyung), a loyal servant of Park Jae-sang, was following him, and Oh In-Joo was taken away with 2 billion won. In the end, Oh In-Ju, who knelt to her knees, begged her to borrow 100 million won for her sister's surgery with her earnest heart. In response, Go Soo Lim suggested a risky game in which she would lend her money when she was in her teens. Oh In-Ju responded without hesitation. The brutal attack of Gosu-im continued, and just as the limit was reached, Choi Do-il appeared. Won Sang-ah was also there. Won Sang-ah took her and left with a warning not to touch her misunderstanding in the future.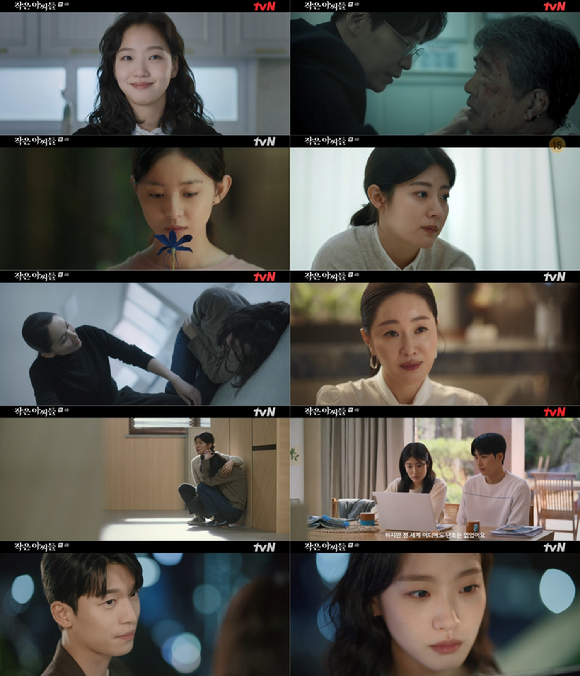 The two headed to a restaurant filled with memories of Oh In-Ju and Jin Hwa-young (Chu Ja-Hyun). Won Sang-Ah revealed that she was close to Hwa Young. It seems that both Lee Do, who presented the shoes to hwa Young, and the person in the secret SNS were all original ivory. For Oh In-Joo, who insisted on the cost of surgery, Won Sang-ah suggested a different method. To appear in a documentary introducing the Park Jae-sang Foundation. It was a plan for Park Jae-sang's image-making, but Oh In-Joo accepted it. Oh, In-Kyung, who found out about the whole situation late, was angry, but Oh In-Joo said, "Love is money. If you don't have money, you have to swallow this much."
The situation was reversed again. Oh Hye-seok (Kim Mi-sook), who suddenly appeared, blocked her Park Jae-sang and paid for her surgery. Even after the sharp confrontation between the two had passed, Oh In-hye did not hesitate to go to Boston with Park Hyo-rin (Jeon Chae-eun). This remarks that 'run away' from her house left her wounded once again. Oh In-hye's changed appearance also changed Oh In-ju. To used the slush book to solidify her desire for more money. On the other hand, when she found out about the existence of the slush fund ledger, Oh In-kyung raised her voice saying that she could reveal the reality of her Mononwonga. So her sister's dreams once again conflicted.
Oh In-Joo, who met Do-il Choi again, asked about her next plan with curiosity. Choi Do-il unexpectedly asked Won Sang-ah to help. Then the photos he showed her were shocking. A luxury apartment in Singapore, a luxury car, and 'Oh In-just who lives there, that is, hwa-young were stamped. Choi Do-il said that hwa-young had lived there in the name of Oh In-joo for three years and that 70 billion won in slush funds was also in her name. The appearance of Oh In-Joo who is declaring that she would go to Singapore for a while, even embarrassed by the unbelievable fact, foreshadowed another stage that would be different with a reversal and exploded curiosity.
Oh In-hye, who was asked 'Can you abandon the person you love the most,' ultimately chose to leave her sisters and go to Boston. The reason she made this choice was because of her deceased sister 'Oh In-seon'. Oh In-hye unconsciously harbors the bitter self-blame of her mother, Ahn Hee-yeon (Park Ji-young), who had to leave her daughter without getting proper treatment for her. At some point, the engraved story turned into a vivid picture, eventually leading to her resolve that she had to run away from her house to live. Oh In-ju, Oh In-kyung, and Oh In-hye's ways of fighting poverty were different, but the weight was the same. In a relationship that continues to be reorganized and a never-ending reversal, I wonder what their next choice will be. The tvN Saturday drama 'Little Women' airs every Saturday and Sunday at 9:10 pm
Source: JoyNews
---