Actor of "Love all play" Chae Jong-hyeop, who took on the role of a baseball player in his drama debut, will return as a badminton player this time through KBS 2TV's new Wednesday-Thursday drama 'Love All Play', which will be broadcast for the first time on the 20th. . Chae Jong-hyeop, who rose to the ranks of popular actors with excellent character digestion based on his warm appearance as well as solid acting skills, took on the role of Park Tae-Joon, the male protagonist of the drama, Park Tae-Joon is a member of a business team who considers sports only as a job, but he grows up little by little after meeting Park Tae-yang (Park Joo-Hyun). First of all, in Love All Play, Chae Jong-hyeop explained why he chose the work, "When I first read the script, I was very attracted to the interesting subject matter that dealt with badminton as a profession and the character Park Tae-Joon. Also, since the characters that make up the team have distinct personalities, I was immersed in reading them while imagining the scenes where we all gathered together," he said. When asked about Park Tae-Joon's charm, Chae Jong-hyeop said, "When I think of Park Tae-Joon, 'variety' comes to mind. He has a lot of different sides at that time." He explained, "From the outside, he seems like he's not serious and smirks in everything, but when you get to know him, he's very considerate, serious, and sometimes cute."
READ ALSO: Ahn Bo-Hyun and Jo Bo-ah: In Military Prosecutor Doberman', start a romance with pink…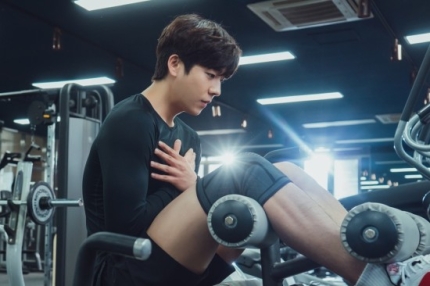 Chae Jong-hyeop said, "I am trying to express Tae-Joon's diversity and changes according to time in an attractive and natural way. He also rehearses in practice to look like a real badminton player."
Chae Jong-hyeop, who spends a lot of time practicing badminton, said, "Learning anything in a short period of time does not mean that your skills will improve, but I am practicing to look like a badminton player as much as possible. I took care of one thing and worked hard to learn and prepare," he said.
He also said that he practiced a lot with other actors in 'You're the one', and said, "I often practice badminton with other actors. Every time it happened, I occasionally played doubles or singles, but there were a lot of fun situations, so it's the most memorable for me."
Chae Jong-hyeop said, "The days of filming with actors my age are always full of energy and laughter. So the way to the filming site is exciting and fun. In addition, each actor draws a character with his or her own color, so it is a lot of fun to work together."
Meanwhile, 'Love All Play' will be broadcast for the first time at 9:50 pm on the 20th.
Photo = Blitzway Studio