May I Help You Lee Hye ri showed the image of Baek Dong-ju herself in 'May I Help You' and reaped the beauty of the end. Lee Hye-ri, who played the role of Baek Dong-joo, a funeral director with the ability to wake up the deceased when she touches them in MBC's, Drama enhanced the perfection of her work through her high synchro rate with the characters in the play.
In each episode, she deeply sympathizes with the stories of the dead, adding to her immersion, and at the same time, Lee Hye-ri's passionate performance, which closely expressed her growing up period, continued to be well received. In the last episode aired on the 22nd, Baek Dong-ju (Lee Hye-ri) was reunited with her father, Baek Dal-sik (Park Soo-young), who passed away as the main character of her last number 1, in her dressing room. The day has come when Dong-ju's ability, which she resented so much, is used for her own sake. Dong-ju shed tears without being able to control her sadness, and she said again, "Don't go.
Don't go, Dad."However, Dong-ju soon regained her smile by recalling precious memories with her father, and said, "I think it is very meaningful to be able to save people." In the end, Dong-ju begins to put meaning in helping people die and has a happy ending as she continues her funeral director work. In this way, Lee Hye-ri (played by Baek Dong-ju) delicately portrayed the growth process of Baek Dong-ju, who gradually empathizes with the stories of the deceased and changes from helping the dead by eating mustard while crying knowing her abilities in the early stages of the play. In the end, she realized that her existence was a blessing at the end of the play, and Lee Hye-ri, who delivered a warm message to the viewers, played a leading role in her entire play.In particular, Lee Hye-ri, who played the role of telling the story of each mourner, stimulated viewers' sympathy with her wide range of emotional performances, such as crying, getting angry, laughing, and moving with them.In this way, Lee Hye-ri, who has shown a more mature appearance as an actress by towing 'One Dangbaek Butler', is raising more expectations for her next move. Here's her interview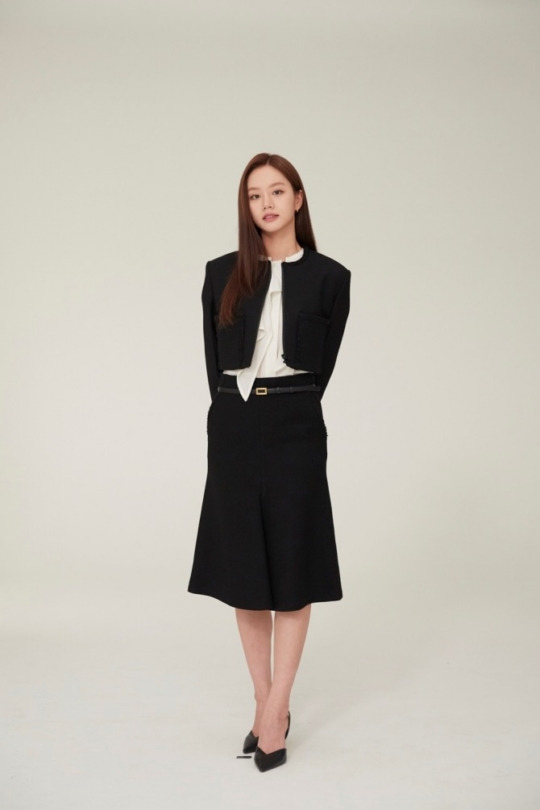 Q. Please tell us about your impressions of the end of 'May I Help You'.
The last work in my twenties, which was very meaningful to me, ended like this. It was a very meaningful and happy time for me as many people cheered, cried, and laughed together while watching 'drama'.
Q. After taking off the veil of 'May I Help you', there were many reviews saying 'Actress Lee Hye-ri is different from the characters she has shown so far'. What is the most important part while playing the character 'Baek Dong-ju'?
I think I wanted to show the process of Dongju's transformation. At first, when Dong-joo learned of her ability, she had a strong desire to avoid and run away, so she had no choice but to grant the wishes of the dead. However, as he meets the deceased and hears their stories, Dong-ju realizes that her ability can give them a little bit of strength and that her existence can help them. I wanted to show the change of Dongju more convincingly.
Q. As a funeral director who grants the wishes of the dead in the play, you met the deceased and encountered various stories. Is there a most memorable episode?
A. I would like to pick the story of Sogang, which appears in episode 4. Comparing before and after meeting Kangi, Dongju's attitude towards the dead has changed. By empathizing deeply with Kangi's story, Dong-joo seems to have begun to take on the image of a funeral director who treats the dead with sincerity.
Q. What is the most memorable scene in the whole play or a famous scene that Lee Hye-ri chose?
READ ALSO
I think the scene where I meet my father in the dressing room in the last episode is not the most memorable scene. While meeting the deceased, I thought that their story could become my story, but when it really became my story, I had a different feeling. So, from the first time I read the script to the time I started filming, as Dong-ju, I was very heartbroken. It was also the moment when I was truly grateful for Dong-joo's ability, so I think of that scene a lot.
Q. In this work, it seems that there were especially many scenes where you shed tears. While acting, it must have consumed a lot of energy. How was it?
That's right. While acting, due to the nature of our genre, there were many crying scenes and deep emotional scenes. In fact, when I acted as a companion in the work, I deeply sympathized with the story, so I don't think it was emotionally difficult. On the contrary, I was more emotionally charged on set than when I saw it in the script, so it was difficult when unexpected sadness came. For example, in episode 12, Seol-A, there is a scene where Dong-Ju tells Seol-A what she couldn't do in the confessional room and says "I have nothing to say to Tae-hee" while thinking of Jun-Ho. At this time, my heart was broken more than I thought, and I felt, 'Dong-ju is this hard', and it hurt my heart. Also, in the 13th episode Seoha, there was also team leader Ilseop who was closer to the deceased, so I remember that I endured it hard because I felt, 'If I cry, the team leader will have a harder time'.
Q. Dong-joo and Tae-hee's redemption romance was especially loved by viewers. How was your breathing with your co-star Lee Joon-young?
It was so good. Even though Junyoung is younger than me, he has a deep heart and is a very thoughtful friend, so I received a lot of help. I have a lot of good memories throughout my acting. More than anything, I remember being very grateful to her for coming to the set in the image of her role in the play, to the point where I felt that it suited her better when she was called 'Taehee' than when she was called 'Junyoung'. From the beginning, I think Junyoung was Taehee.
Q. In addition to actor Lee Joon-young, there were many scenes with various actors including Lee Kyu-han, Song Deok-ho, Tae In-ho, Oh Dae-hwan, and Park Soo-young seniors. How was the atmosphere on set?
The atmosphere on set was really good. Among the performers, even though I belong to the younger axis, the seniors rather played a role in enhancing the atmosphere on set. In the past, I would have thought, 'I should try to make the atmosphere better', but the seniors acted as more mood makers, so I was able to shoot in a really good atmosphere. In particular, in the case of Park Soo-young, who appeared as a father in the play, he gave me wine as a gift on the first day of filming with me. It was probably my birthday at that point, so they took care of it, but I want to take this opportunity to say thank you. Also, I had a lot of scenes with senior Oh Dae-hwan, and while acting, I asked a lot about difficult parts or points of concern. Every time I did that, I was very thankful that my senior taught me well, which gave me a lot of strength.
Q. Is there anything that has changed before and after 'One Dang 100 Butler'?
Actually, it's a personal part of me, but I think it's related to my age. Now that I'm in my twenties, it's a time when I worry about 'what attitude should I live in the future' and 'what attitude should I work to become a better, decent person'. It seems that I am thinking a lot to be sure of the ambiguous standards I had for myself. I think it's more like 'One Dang Butler' because it's also a drama about life and death. I think there was also a wish that 'I wish there was a person with the same ability as Dongju' in real life. It's the wind that 'maybe it's somewhere?'.
Q. What kind of work do you think 'May I Help You' will remain for actress Lee Hye-ri?
I think 'May I Help You' is a work that I have tried many processes. While filming this drama, I tried a lot of things that were a little different from when I've filmed other dramas so far. Some of them helped me, of course, and there were also moments that made me suffer. It is a work that made me learn many things while going through such a process, so I think it will remain in my memory for a long time.
Q. A word to the viewers of 'One Hundred Butlers'.
I tend to watch the viewers' reactions diligently, so I'm well aware of how much the viewers of 'One Dang Baek Butler' loved and enjoyed watching it. So I want to say thank you so much. Everyone seems to be wishing for Dongju to be happy in the future, but I am the same. Thank you for empathizing, crying, and laughing while watching our drama. It was a happy time for me as well. thank you thank you three times Reporter
Source: Daum