'The Glory' Song Hye-Kyo, the drama was a challenge for writer Kim Eun-sook and actress Song Hye-Kyo. Writer Kim Eun-sook, director Ahn Gil-ho, and actress Song Hye-Kyo gathered to raise expectations by predicting a desperate revenge genre based on 'school violence'.
On the morning of the 20th, a production presentation for Netflix's 'The Glory' was held in Jongno-gu, Seoul. Song Hye-Kyo, Lee Do-Hyun, Lim Ji-Yeon, Yeom Hye-ran, Park Sung-hoon, Jung Seong-il, writer Kim Eun-sook, and director Ahn Gil-ho attended.
'The Glory' is a story about a woman whose soul was shattered by violence in her childhood and the desperate revenge she has prepared meticulously throughout her life and the people who fall into the vortex of it.
The first challenge of the genre, Kim Eun-sook and Ahn Gil-ho, the master of the genre

'The Glory' is a collaboration between writer Kim Eun-sook, who has been loved around the world for numerous hit films, and director Ahn Gil-ho, who showed meticulous directing skills with 'Secret Forest', 'Happiness', and 'WATCHER'. Revenge was foretold.
Director Ahn Gil-ho expressed affection and satisfaction in working with 'The Glory' and writer Kim Eun-sook, to the extent that he picked it as the best moment of his work so far. He said, "He is easy-going, humble, and always working hard. This is why Kim Eun-sook and Kim Eun-sook are called. I learned a lot from watching the writer worry and put in effort even while filming a line, a letter, and a dot in the script."
Writer Kim Eun-sook also said, "I can't tell when he sleeps. It was the first time that I texted him at any time of day, morning, or night. I was the first person to reply right away. I wanted to know when he was going to sleep, so I also worked hard together." There is a god, but he implemented it so well that I could have hugged him unless he was married."
'The Glory' is also a genre that features profanity and deals with violent material, but writer Kim Eun-sook revealed that it is a '19-year-old revenge play' that requires a lot of philosophical agonies. He said, "It's because it's a story about choosing private revenge, not revenge within the judicial system. Since I'm not in a position to advocate private revenge, I thought Dong-eun's philosophy should be 19. Adults who can judge this well I think you should see the work," he said, saying that it was a genre that raised the 'darkness' within himself.
READ ALSO
For all 'victims of school violence
Writer Kim Eun-sook is also a parent with a daughter who will be in her second year of high school the day after tomorrow. To him, her school violence was the closest and most important topic. Kim Eun-sook said, "My daughter asked, 'Mom, do you think it would be more heartbreaking if I hit someone to death?' That question was shocking and hellish. In a short moment, many stories came to mind." '.
Regarding the title, he said, "When I read the writings of victims of school violence, they all wanted a sincere apology from the perpetrator rather than realistic compensation." Aren't you losing? I thought I could start from scratch only when the victims apologized, so I named it 'The Glory'."
At the same time, he added that it works like cheering for victims of school violence.
In addition, Song Hye-Kyo, who said that it was difficult to play 'Moon Dong-eun', a victim of school violence, said, "I wanted to show a harder side than a pitiful side." I wanted to show it more moderately,"s he said.
Song Hye-Kyo's transformation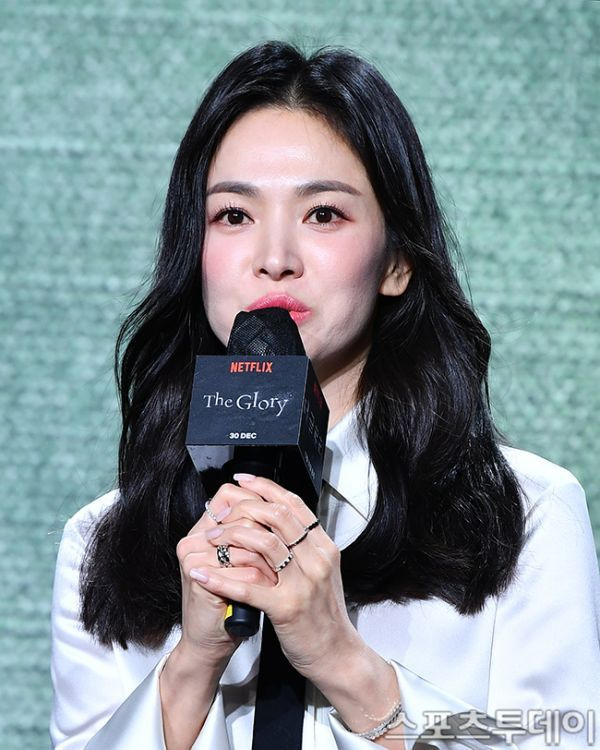 Actor Song Hye-kyo's appearance in this work also drew attention. Regarding the reason for deciding to appear, he said, "The writer and director were the first reasons." "When I read the script, it was a genre and a character that I really wanted to try. This was so painful and I was stunned for a while. 'How could this be?
Song Hye-Kyo expressed her anticipation, saying, "It was difficult but enjoyable acting," while worrying that it might be unfamiliar to the public because it was Song Hye-Kyo, who is more familiar with melodramatic acting.
Song Hye-Kyo introduced the character, "'Moon Dong-eun' is a woman whose soul was broken with a lot of scars and pain due to school violence in her childhood. She is a person who was not protected by anyone in school, parents, or the police." The moment she is about to decide her death, she leads the important story of 'The Glory' by planning her revenge, hoping that those who bullied her will be punished.
Meanwhile, Part 1 of 8 episodes of 'The Glory' will be released worldwide on the 30th. Part 2 will be released around March next year.
Source: Daum