JTBC's new upcoming drama 'the interest of love' helds an online presentation and reveal that the drama is expected to wake up the love cells frozen in the cold winter.
The production presentation on the 21st was attended by director Jo Young-min and actors Yoo Yeon-seok, Moon Ga-young, Keum Sae-rok, and Jeong Ga-ram attended the production presentation.
Meanwhile, 'the interest of love' is a melodrama that tells the story of people with different interests meeting and understanding the meaning of true love. It will be broadcast for the first time at 10:30 pm on the 21st.
As director Cho Young-min, who delicately portrayed the emotions of young people struggling between dreams and love in the drama 'Do you like Brahms?', expects the birth of a warm melodrama. Director Cho said, "My previous work was a melodrama, so I wondered what it would be like to do it again. When I received the script, it was so much fun. I felt like I could tell a different love story from my previous work, a realistic and sympathetic story. It's nice to work with good actors." said.
As for making the original novel of the same name into a drama, "I enjoyed the novel. It's a single book, so there are stems and skeletons, but there are a lot of parts to be filled in to make it into a 16-episode series. "There was a lot of it. I paid attention to that part. I think those who read the original work will be able to feel the difference from the drama. So I think those who have read the novel will also be able to enjoy it."
In particular, the place called 'bank' stimulates viewers' interest. Director Cho said, "There have been dramas dealing with company romance, but we have all four of us in a small space called a bank branch. You can see each other's eyes and changing emotions. It seems," she said.
'Understanding Love' features four men and women caught up in love, the most unstable emotion. The intertwined relationship with love that blooms and changes in an instant will present a feast of colorful emotions such as joy and joy, as well as jealousy, anxiety and sadness, to the viewers. In particular, the acting of the actors who will immerse themselves in the trembling love and worries caused by it arouses curiosity.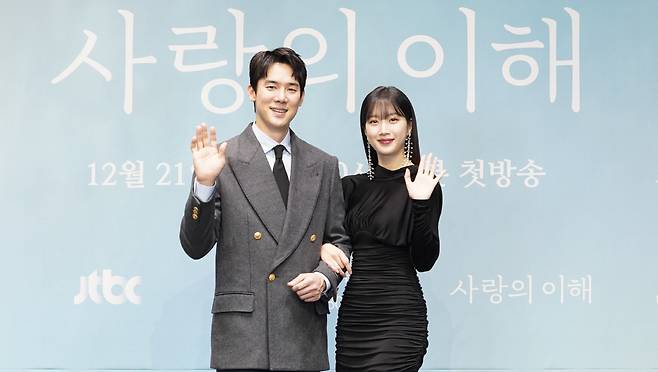 Yoo Yeon-seok takes on the role of Ha Sang-soo, a third-year section chief of the general counseling team at KCU Bank Yeongpo Branch. When Yoo Yeon-seok, who played the role of a doctor in the previous work 'Hospital Playlist', returned as a bank clerk, he said, "I showed a friendly side as a doctor. I also showed a different image in 'Suriname'. When I play a character I have, I try to feel it by going to the scene of the job. I went to the bank and saw and referenced the way the employees talked and treated the customers. I practiced counting money and handling various tools."
In terms of being called 'Melo King', "In the past, I actually had pure love or one-sided love, but this time I can say that it has a sense of reality. Yes. I think that is different from the previous melodrama."
Moon Ga-young takes on the role of Ahn Soo-yeong, the 4th year manager of the KCU Bank Yeongpo branch deposit window, and presents a romance with Yoo Yeon-seok. Regarding the difference between the original work and the drama, she said, "I enjoyed reading the original work, and the script was as much fun. Those who read the original book will find it interesting to see where the ending cuts off while watching the drama. Please also look at the differences."
I also compared this character with the previous characters. Moon Ga-young said, "In the previous work, I was bright and expressed a lot, but this time I put up with it and condensed it a lot. I looked at the teaser and looked at the comments, and they said, 'Crash Moon Ga-young.' In my work, I tried to express what I say and feel in line with the unadorned love story."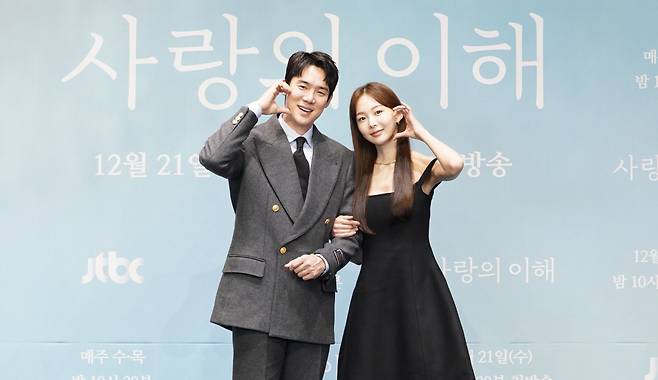 Keum Sae-rok, who played the role of Park Mi-kyung, assistant manager of the PR team at KCU Bank's Yeongpo branch, met Yoo Yeon-seok again six years after the 2014 movie 'love, lies'. Together with Keum Sae-rok, Yoo Yeon-seok and Moon Ga-young, she plans to create a love line between young men and women who will be entangled.
Keum Sae-rok said, "Six years ago, during 'love, lies', I auditioned and worked on a piece alone, but there was not a word of dialogue. At that time, the seniors were not there, but I remember that I was greeted alone when I first said that I would be with the seniors. He was so kind and caring. I think I received help so that I could permeate into the set without any awkwardness because he took care of me comfortably."
In response, Yoo Yeon-seok responded, "It seems like he's acting method. I can feel that he deeply loves me. In the drama, since they're college seniors and juniors, even when they're friendly and comfortable, they even pay attention to their titles to keep the feeling in the play. That was so cool." .
Jeong Ga-ram plays Jung Jong-hyeon, a police officer at KCU Bank. "This is my first work after being discharged," said Jeong Ga-ram, "there was an intersection between Jeong Jong-hyun and Jeong Ga-ram in the script. There are many similarities. I think I was able to express myself in a fun way."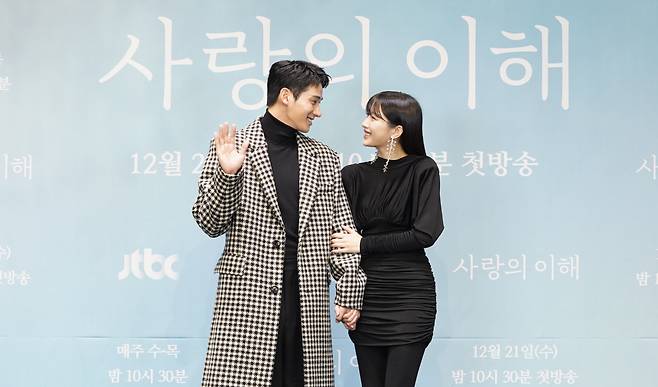 Expectations are gathering for the love story that sprouts at the bank. Lastly, Director Cho said, "It's snowing, but it seemed to welcome the first episode. It's a melodrama in winter, so I think I'll be able to enjoy watching it along with this season." It also seems to be changing. Every week, I get to experience a new feeling and have a different kind of fun."
Moon Ga-young also said, at The Interest Of Love online production "The love story of someone else is the most fun. Please feel free to meddle in my story. It's okay to take someone's side, hate it, or sympathize with someone. More than 100 staff members worked hard on a cold day and were full of affection."