'The Interest Of Love' Moon Ga-young, has grown from 'Romantic comedic Queen' to 'Melo Queen' this is a really wonderful love story. It makes my heart beat the whole time I see the look of love that is so realistic. Still, there was a passionate performance in the delicate eyes of the female protagonist, which was revealed in various ways even on an expressionless face, that kept making people curious about the next story. Through the JTBC drama 'The Interest of Love', Moon Ga-young, changed her name from 'ro-co queen' to 'Melo queen'. 
'The Interest Of Love' is a melodrama about the story of people with different interests meeting and understanding the meaning of true love. In the play, Moon Ga-young plays the role of Ahn Soo-young, a high school graduate and manager of KCU Bank's Yeongpo branch.
The character of Ahn Soo-young in the work is different from the character Moon Ga-young has been playing. If she showed a chubby and lovely side in 'Find Me in Your Memory' and 'Goddess Advent', it is hard to find her smiling face in 'Understanding Love'. She is an achromatic feeling, neither able to speak nor much expression.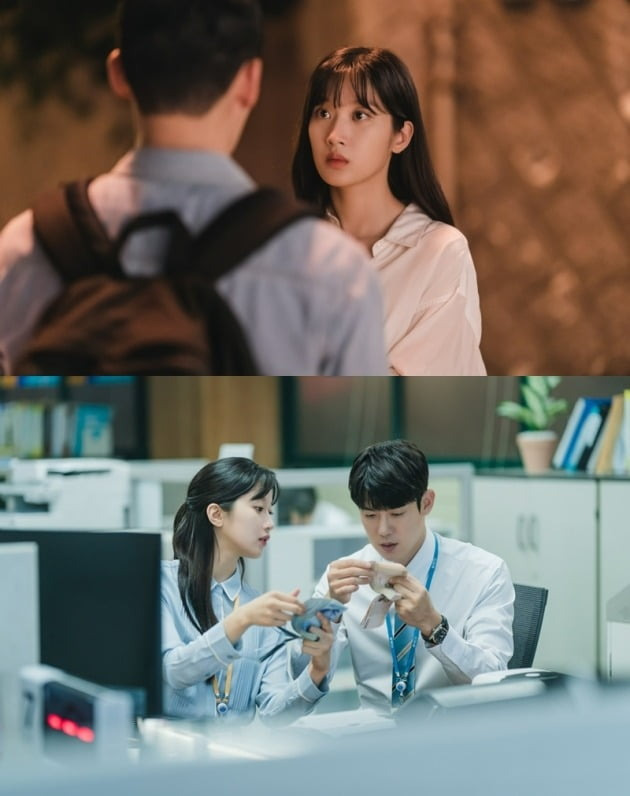 I wondered what would be left of Moon Ga-young except for her loveliness, but the result was a great success. Moon Ga-young, who had little opportunity to show her acting skills compared to her visuals due to the rather unrealistic characters and exaggerated tone of dialogue in previous romantic works, relaxed and focused only on the detailed emotions of the characters and succeeded in expressing the fluctuating emotions of the characters only with her eyes.

Even though she has feelings for Ha Sang-soo (Yoo Yeon-Seok), she pushes him away due to the difference in the environment and is comforted by meeting Jeong Jong-Hyeon (Jung Ga-ram), who is in a similar situation to her, but her remaining feelings for Ha Sang-su are persuasive in a complex and delicate situation that has not been erased. What added to it was Moon Ga-young's strength.

Here, we calmly capture the image of a woman who is tired of her hard life, including the wounds caused by her brother's death, her discord with her father, her regret for her mother, and her despair over the unequal structure within the company. It increased the level of immersion in her play. 

READ ALSO


Despite the actors' passionate performances and tight narrative, the ratings are disappointing. The fact that this is a late time zone of 10:30 pm on weekdays and that 'Mr. Trot 2′ with a viewership rating of 20% is aired at the same time and cannot be ignored. However, it has risen from the 1% to the 3% by word of mouth and is gaining favourable reviews by forming a solid maniac layer. It proves that the quality of the work and the actors' passionate performances are valuable that cannot be measured by ratings.

Moon Ga-young succeeded in broadening her spectrum as an actress through her 'understanding of love' and firmly established herself as a leading actress in her 20s. Expectations are focused on the appearance of Ahn Soo-young, which Moon Ga-young will show, in a situation where 'Understanding Love' has just turned the halfway point.
Source: Daum