Tomorrow Kdrama Episode 3 Preview Kim Hee-sun, Rowoon, and Yoon Ji-on become the whole of 'Jumadeung' and start their second case.
Tomorrow' is based on the Naver webtoon of the same name, which is considered one of life's webtoons, as a human fantasy in the afterlife office where the angels of the dead who guided 'the dead' now save the 'people who want to die.
In the last broadcast, while Choi Jun-woong (Rowoon), who was in a coma, got a job for the first time in his life at the underworld monopolistic company Jumadeung, he observed the crisis management team and went along with team leader Goo-Ryun (Kim Hee-sun) and assistant Lim Rung-gu (Yoon Ji-on), a victim of school violence, Noh-eun. It depicts Bi (Jo In) struggling to prevent extreme choices. Thanks to the crisis management team who sincerely sympathized and read deeply, Noh Eun-bi, regains her smile and confidently moves toward her 'tomorrow'.
Tomorrow Kdrama Episode 3 Preview
In the released stills, Goo-Ryun, Jun-woong, and Rung-gu of 'Crisis management Team' with a sense of urgency are visible. Ryun is looking at someone with intense eyes full of anger, and her expression seems to show some kind of anxiety, raising curiosity. In addition, Jun-woong is urgently knocking on the green door with a worried expression, and even Rung-gu, who maintained his poker face, is showing strong anger, raising curiosity about the situation.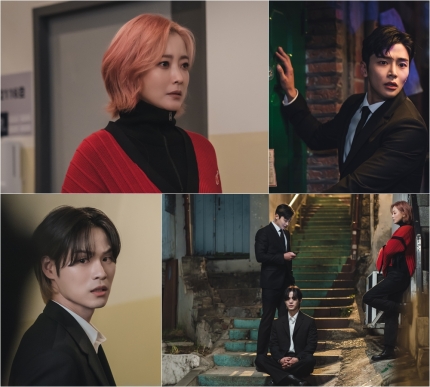 this time Jun-Woong is out to save his best friend, Jae-Su (Ryu Seong-rok), a third-year police officer who has a high level of depression. Unlike Ryun and Ryung-gu, who are struggling to find composure, Jun-woong can't hide his impatience while looking at his cell phone, raising expectations for his performance as he walks his arms around to save his best friend.
In the first episode, Jae-soo and Joon-woong never lost their laughter in the harsh reality of their life. Attention is focused on what might be the reason for Jae-soo's extreme choice ahead of him, and whether Ryeon, Jun-woong, and Rung-gu, who have finally become a true whole, can save him.
Episode 3 of 'Tomorrow' will be broadcast on the 8th at 9:55 PM.
photo = MBC, Source