Yoon Si Yoon The problem of impersonating celebrities on SNS continues this year as well. Only in January of this year, only five celebrities were officially announced. The impersonation was repeated several times, not just one time. Despite suggesting a tough response, the crimes of impersonators continue.
On the 24th, weathercaster Lee Seol-ah announced on her Instagram that "criminal charges are being filed against those who created accounts on various social media and wrote vicious comments and abusive language." He emphasized that he would deal with it without leniency if the same thing is repeated in the future.
This is not the first time Lee Seol-ah has announced the news of social media impersonation. In September of last year, a controversy arose when an impersonator wrote "Hwaiting Typhoon Nanmadol" in a video about typhoon-related news.
At the time, the comment came as a fatal blow to Lee Seol-ah, a weathercaster. Lee Seol-ah had to explain that he did not write it himself, and he reported the writer as an impersonator. Despite the measures taken, the related problem continues.

The problem of impersonating celebrities on SNS is even more serious. On the 4th, early January, god member Park Joon-Hyung also announced that "another fake account has been created."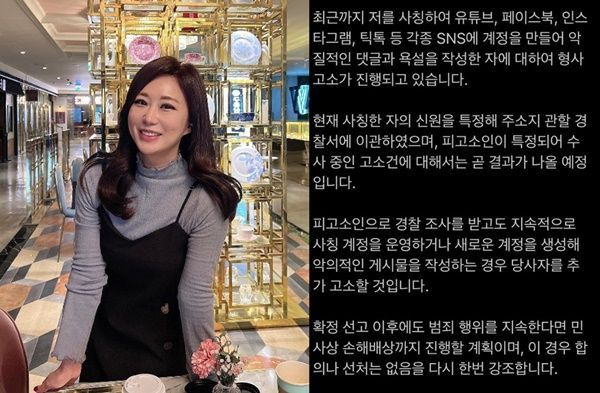 The captured version released by Park Jun-Hyung was subtle as if it were the real Park Jun-Hyung account. Even the profile picture and introduction section were insignificant. In addition to this, the impersonator showed shamelessness by sending a message to Park Joon-hyung's fans.
Park Joon-Hyung warned, "he is already cheating on 305 followers. It can be dangerous, so report it and ignore it." He already appealed for damages on the same issue in October of last year. Even at that time, he emphasized his real SNS ID and reported an impersonation account.
There are also people who have suffered damage even though they do not have personal SNS. Actor Yoon Shi-yoon's agency Moa Entertainment announced on the official SNS, "Yoon Shi-yoon does not have his personal SNS account. Please don't be fooled by anyone." Along with this, they revealed his impersonation account. Yen Yoon Si-yoon's profile picture and ID were also decorated in a plausible way to be deceived. The person impersonating Yoon Si-Yoon also continued to act falsely by sending messages to his fans.
READ ALSO
The biggest concern when a celebrity's SNS is impersonated is that it could lead to another criminal act using the fame. SNS is used as a window for celebrities to communicate with their fans. Impersonators can use this to reach good fans and not just send messages.
An example is the case of Italian broadcaster Alberto Mondi. He warned, "There are people who create an account pretending to be me and contact many people to recommend cryptocurrency while pretending to be me." If the impersonator was left unattended, there could have been an unfair victim.
Not only this year, but also last year, numerous entertainers and celebrities such as Hong Seok-Cheon, Daniel Henney, and Kim Ho-young suffered from impersonation accounts. Even though legal action was suggested, it is still exposed to impersonation and social media damage.
From the agency's point of view, it must be frustrating because they can only do continuous monitoring. An agency official said, "It seems that reports of impersonating accounts come in at least once a year. If a fake account is discovered, a notice is posted to prevent damage." There is no other way than monitoring," he sighed.
Currently, the most intuitive way is to check if there is a 'blue check' mark on your social media account. The blue check signifies that the account has been officially recognized by the SNS side through identity verification. However, it is not given to everyone, and it is paid after going through a series of certification processes, so it is not enough as a strong alternative. Rather than being neglected without a sharp number, we need to prepare stronger punishment and systems.
Source: WikiTree